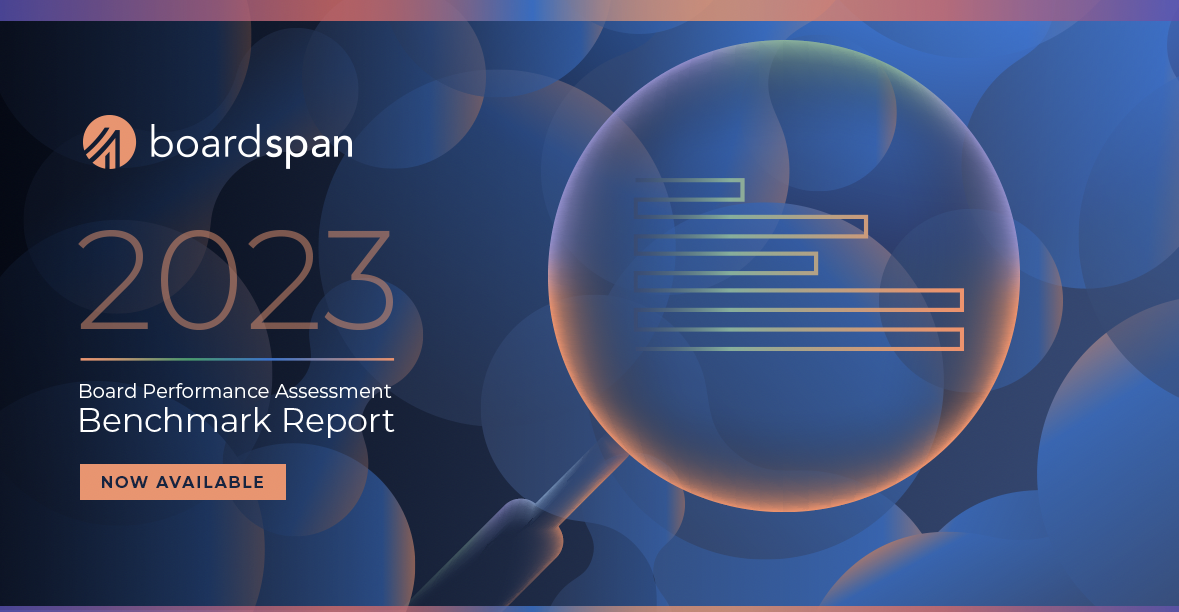 The power of performance benchmarking across all businesses is undeniable. For boards it is essential and long overdue. For far too long, board members have lacked the objectivity and data-driven insights that benefit them in their work. Knowing "what good looks like" and the issues that challenge others in their peer group can only benefit a board in its continued growth and development.
That's why we are pleased to share the insights gained from our 2023 Board Performance Assessment Benchmarks. Boardspan is the only source of benchmarking data for boards to measure their performance relative to peers, compare results to goals, track their progress, and stay abreast of emerging issues.
In this year's benchmarks, what are boards thinking about? What are their biggest strengths? Where do they want to do better? Here are some of the insights we observed in this year's report.
1. Boards are embracing change, even if it's hard.
2023 is the year of Radical Candor, to borrow Kim Scott's phrase. (Of course, because we're talking about the boardroom, respectful radical candor is most desirable and effective.) Boards are taking on the hard issues, like succession planning and crisis preparedness, and being courageous when it comes to making change. Some changes are big and existential; others are less dramatic but nonetheless equally important in supporting the progress of the board. Using respectful radical candor and armed with purpose, boards are showing self-awareness and honorable intention to continue to grow and add value.
2. Boards are sharpening their strategic value
Boards are increasingly leaning into their roles as strategic contributors once they establish their foundational good governance. When boards can wrap their heads around their core oversight roles and own their accountability, they are then able to take on the more complex matters of Risk and Strategy. (Boardspan's Governance Curve takes a deeper dive into this topic.) Evidence of this trend is clear in our benchmark results: Board Strategy showed the single biggest positive category change this year. This strategic focus doesn't take away from management's important role in setting the course; but it does mean that boards can better serve as thought partners, validators, and constructive challengers: a win-win for everyone.
3. Committees are rising to new challenges
We've long known that committees are "the workhorses of the board." In our benchmarks, their peers on the board know it too. Each standing committee – Audit, Nominating & Governance, and Compensation – received some of the highest scores in the assessment. As board responsibilities continue to rise, the stakes are higher and there is more to keep track of. In turn, more work is going to committees. They shoulder a lot of responsibility and boards are acknowledging the work they undertake and their ability to step up when faced with new challenges and increased scrutiny.
Read more insights in the report
These are some of the insights gleaned from the 2023 Benchmarks. The report contains more analysis, numbers, and a look at how boards use these benchmarks as part of a holistic governance approach to set priorities and catalyze real growth and change.
Get the 2023 Benchmark Report
The 2023 Boardspan Board Performance Assessment Benchmark Report is now available for free download.